Pro Tennis Academy Holiday Programs are FUN, HEALTHY and SOCIAL and bookings are very flexible!
Chose any program and book for the number of sessions that suit your holiday plans. There is something for everyone, get the whole family off the couch, off the computer and on the court practicing their tennis.
JUNE/JULY HOLIDAY 2021  – June 29, 30 & July 1   9am – 12noon
Looking for something to do over the break – Our Pro Tennis Academy  Holiday Tennis Program is open for bookings. Join us at Mitcham and Donvale Tennis Clubs for our fun filled, high energy holiday programs.
There is something for everyone!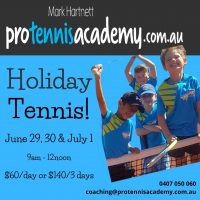 KIDS  Holiday Clinics
These follow the ANZ Tennis Hot Shots  and Tennis Australia Player Development Program to provide students with the most appropriate classes for their level, age and experience.  Clinics are fun, challenging and social for all players!
Register a friend (must be new to PTA) to any of these programs and you'll receive a 50% discount.
As well as our June/July holiday  program we will be running private lessons  and we will continue our COVID SPECIAL Hitting Session – $30/hour with one of our junior coaches.
Looking forward to seeing you on court.